Hongkong BoWen Gongchuang Technology Co., Limited

Hongkong BoWen Gongchuang Technology Co., Limited High Quality Steroid Hormone Supplier
Home>Products>Polypeptide Hormones>ACVR2B 1mg Polypeptide Hormone Myostatin Inhibitor ACE 031 For Building Musclea
English
ACVR2B 1mg Polypeptide Hormone Myostatin Inhibitor ACE 031 For Building Musclea
HKYC

ACE-031

China

ISO9001,SGS

10 vials

Negotiable

vials

within 3-7 working days after the payment

Western Union, MoneyGram, T/T,Bitcoin

5000 vial/month
Hongkong BoWen Gongchuang Technology Co., Limited
Hongkong BoWen Gongchuang Technology Co., LimitedChina
Hongkong BoWen Gongchuang Technology Co., Limited2020-07-10 09:46:19

Welcome to my shop! Glad to serve you! Please send your question!
Product Details
| | | | | | |
| --- | --- | --- | --- | --- | --- |
| Product Name: | ACE-031 | Assay: | 98% | Application: | Muscle Building |
| Trademark: | HKGC | Contact person: | Miss Lynn | Mobile: | +852-53617701 |
Product Description
About ACE-031
Description:
40.5 kDa protein containing 368 amino acid residues of the ActRIIb-hFc recombinant protein.
MDAMKRGLCCVLLLCGAVFVSPGASGRGEAETRECIYYNANWELERTN QSGLERCEGEQDKRLHCYASWRNSSGTIELVKKGCWLDDFNCYDRQEC VATEENPQVYFCCCEGNFCNERFTHLPEAGGPEVTYEPPPTAPTGGGTH TCPPCPAPELLGGPSVFLFPPKPKDTLMISRTPEVTCVVVDVSHEDPEVKF NWYVDGVEVHNAKTKPREEQYNSTYRVVSVLTVLHQDWLNGKEYKCK VSNKALPVPIEKTISKAKGQPREPQVYTLPPSREEMTKNQVSLTCLVKGF YPSDIAVEWESNGQPENNYKTTPPVLDSDGSFFLYSKLTVDKSRWQQG
NVFSCSVMHEALHNHYTQKSLSLSPGK
Unit:1mg/vial ,10vial/kit
Synonyms:
ACE-031, ActRIIb-hFc, ACVR2B, activin receptor type IIB and human immunoglobulin Fc region construct, myostatin inhibitor.
Physical Appearance:
Sterile Filtered White lyophilized (freeze-dried) powder.
Specificity:
The amino acid sequence of the recombinant human ActRIIb-hFc is 100% homologous to the amino acid sequence of the human ActRIIb receptor and immunoglobulin Fc region proteins.
Solubility:
Add 1 ml of sterile diluent and let the lyophilized pellet dissolve completely.
Stability:
Store lyophilized protein at -20 °C. Aliquot the product after reconstitution to avoid repeated freezing/thawing cycles. Reconstituted protein can be stored at 4 °C for a limited period of time. The lyophilized protein remains stable until the expiry date when stored at -20 °C.
Ace-031, also known as ACVR2B, is a soluble form of activin type IIB receptor, which is an inhibitor of myostatin and other naturally occurring proteins that limit muscle growth. This compound was genetically developed to bind to myostatin before it can attach to its receptor and halt muscle growth. The two Biopharma companies that worked on this compound are Acceleron and Shire.
Development of ACE-031 is fully discussed in Diverting an Unwanted Protein, in the April 2011 issue of Quest, MDAs quarterly research and health magazine.
Companies hope to resume ACE-031 testing after safety issues fully explored
Acceleron and Shire are completing studies of ACE-031 in rats and monkeys and will analyze the human and animal data to gain an understanding of the observed adverse events. The companies say they hope to resume testing ACE-031 in humans after these analyses have been obtained and reviewed by the U.S. Food and Drug Administration (FDA) and Health Canada.
Acceleron and Shire issued the following statement on April 21:
"In an effort to keep the Duchenne muscular dystrophy community informed, Acceleron and Shire wish to provide an update about the status of the ACE-031 clinical program.
"During the course of clinical trials in healthy adults and in DMD boys, some participants experienced minor nosebleeds, gum bleeding, and/or small dilated blood vessels within the skin. These events all resolved fully upon discontinuation of treatment.
"By themselves, the minor bleeding events and dilated blood vessels were not considered to be a serious safety concern for study subjects.
"However, based on review of these safety data with the FDA and Health Canada, Acceleron has terminated the A031-03 DMD study and has suspended enrollment and dosing in the follow-on extension study A031-06.
"Acceleron and Shire remain committed to the global DMD clinical program and the development of ACE-031. To that end, it is our intention to start new studies of ACE-031 in DMD with appropriate safety monitoring following discussions with regulatory agencies.
"In the coming months, we will provide updates to the DMD community as appropriate."
What is ACE-031?

ACE-031 is an investigational (experimental) drug that is designed to increase muscle size and strength by blocking proteins that slow down muscle growth. ACE-031 is a protein drug that is administered by subcutaneous injection.
How does ACE-031 work on muscle?

Muscle growth is regulated by proteins in the body that serve as "on" or "off" switches for muscle production. ACE-031 acts by reducing the "off" signal that stops muscle production, thus muscles may become larger and stronger.
Why is ACE-031 being studied in Duchenne Muscular Dystrophy (DMD)?

ACE-031 may promote muscle growth and improve muscle quality, which may compensate for loss of muscle strength and function due to disease-related muscle damage that occurs in DMD. Because it acts on muscle, ACE-031 has the potential to treat all DMD patients, regardless of their type of dystrophin mutation.
What does ACE-031 do in animal models of DMD?

In animal studies, including healthy animals and animal models of DMD, ACE-031 has been shown to increase the size of muscles and decrease the amount of abnormal scarring in muscle. ACE-031 has also been shown to increase the protein utrophin, which may partially make up for the lack of dystrophin, which causes DMD. The significance of this effect on utrophin is not yet known.
Half life
---
The half life of Ace-031 is 10-15 days.
| | |
| --- | --- |
| Name | Specification |
| MGF | 2mg/vials, 10 vials/box |
| PEG MGF | 2mg/vials, 10 vials/box |
| CJC-1295 with DAC | 2mg/vials, 10 vials/box |
| CJC-1295 without DAC | 2mg/vials, 10 vials/box |
| PT-141 | 10mg/vials, 10 vials/box |
| MT-1 | 10mg/vials, 10 vials/box |
| MT-2 | 10mg/vials, 10 vials/box |
| GHRP-2 | 5mg/vials, 10 vials/box |
| GHRP-2 | 10mg/vials, 10 vials/box |
| GHRP-6 | 5mg/vials, 10 vials/box |
| GHRP-6 | 10mg/vials, 10 vials/box |
| Ipamorelin | 2mg/vials, 10 vials/box |
| Hexarelin | 2mg/vials, 10 vials/box |
| Sermorelin | 2mg/vials, 10 vials/box |
| Oxytocin | 2mg/vials, 10 vials/box |
| TB500 | 2mg/vials, 10 vials/box |
| pentadecapeptide BPC 157 | 2mg/vials, 10 vials/box |
| HGH 176-191 | 2mg/vials, 10 vials/box |
| Triptorelin | 2mg/vials, 10 vials/box |
| Tesamorelin | 2mg/vials, 10 vials/box |
| Gonadorelin | 2mg/vials, 10 vials/box |
| Gonadorelin | 10mg/vials, 10 vials/box |
| DSIP | 2mg/vials, 10 vials/box |
| Selank | 5mg/vials, 10 vials/box |
| ACE 031 | 1mg/vials,10 vials/box |
| FOLLISTATIN 314 | 1mg/vials,10 vials/box |
| GDF-8 | 1mg/vials,10 vials/box |
| FOLLISTATIN 344 | 1mg/vials,10 vials/box |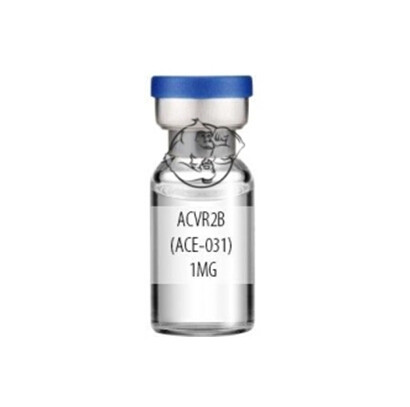 ACVR2B 1mg Polypeptide Hormone Myostatin Inhibitor ACE 031 For Building Musclea Images
Contact Us
Hongkong BoWen Gongchuang Technology Co., Limited

Address

Phone(Working Time)

Fax