Hongkong BoWen Gongchuang Technology Co., Limited

Hongkong BoWen Gongchuang Technology Co., Limited High Quality Steroid Hormone Supplier
Home>Products>Polypeptide Hormones>Melanotan II Polypeptide Hormones CAS 121062-08-6 Melanotan 2 Human Growth
English
Melanotan II Polypeptide Hormones CAS 121062-08-6 Melanotan 2 Human Growth
GC

121062-08-6

China

SGS/ISO9001/Kosher

10 vials

Negotiation

Original Kits or as requirements

After receipt of your payment

Western Union,Money Gram or T/T

8000 Vial per month
Hongkong BoWen Gongchuang Technology Co., Limited
Hongkong BoWen Gongchuang Technology Co., LimitedChina
Hongkong BoWen Gongchuang Technology Co., Limited2020-07-10 09:46:19

Welcome to my shop! Glad to serve you! Please send your question!
Product Details
| | | | | | |
| --- | --- | --- | --- | --- | --- |
| Product Name: | Melanotan 2,Melanotan II,MT-2,Melanotan,Human Growth Hormone,Polypeptide Hormones, | Manufacturer: | GC | Contact Person: | Lynn |
Product Description
1. Quick Detail:

Unit Size :10 mg/vial
Unit Quantity :1 Vial
CAS NO. :121062-08-6
Synonyms :Melanotan-II
Molecular Formula :C50H69N15O9
Molecular Weight :1024.18
Sequence :Ac-Nle-cyclo(-beta-Asp-His-D-Phe-Arg-Trp-epsilon-Lys-NH2)
Appearance :White Powder
Purity :99.21%
Identity (ESI-MS) :1024.18±1.0
Source :Chemical Synthesis
Storage :Lyophilized Melanotan II is stable at room temperature for 90 days,however it should be stored in a freezer below -8C for any extended period of time. After reconstituting Melanotan II should be refrigerated at temperatures not to exceed 36 F.
2. Description:
Melanotan (MT) and Melanotan II (MT-II) are both analogs of the alpha-melanocyte stimulating hormone (α-MSH) which is produced within the pituitary gland. Along with other melanocortins, they are responsible for various internal human functions including skin and hair pigmentation, appetite, libido and physical sexual arousal. Whilst these effects have been observed in both sexes, it is worth noting that increases in libido and sexual function are exclusive to MT-II. This article will primarily look at the tanning and pigmentation properties of the hormone, though it would be foolish to ignore the other effects which are discussed further in the Side Effects section.
3. Applications:

If you look hard enough out there, you will find some weird and wonderful dosaging schedules whereby the user calculates their daily dosage by multiplying their bodyweight by a cofactor. Perhaps this approach has been adopted since this has been the method employed in the ongoing clinical studies. Typically, this type of formula would suggest a dose of 1mg of MT-II per day for someone weighing in at a mere 110lb (50kg). The cynical among us might be forgiven for thinking that these formulae are constructed by those with a personal interest in the sale of the product as I believe this to be more than necessary to achieve a great result. Indeed, there are many instances whereby users feel they have become too dark. While I have no problem with a bodyweight dosage scale in principle, I can help thinking that its not only unnecessary (particularly for the mathematically challenged), but also avoids the ability to gradually increase dosages from a relatively low level; something which I would advocate to assess individual tolerance levels to side effects, especially in the case of MT-II.
Clinical trials to determine efficacy of the drugs have typically used dosages up to 0.21mg/kg daily for Melanotan (16mg for a 75kg (165lb) individual), and up to 0.03mg/kg daily for Melanotan II (2.25mg for a 75kg (165lb) individual). More typically however, trials have used the dosages of 0.16mg/kg (12mg) and 0.025mg/kg (1.875mg) respectively. At this level of dosage, one such study involving Melanotan indicated the following incidences of side effects from subjects:
Nausea 85%

Facial Flushing 75%

Fatigue 44%

Vomiting 26%

Injection site reactions 13%

Zero incidence of erections

No change in vital signs or haematological parameters, blood biochemistry (liver and renal function)
As is the case with any drug use, the user is ideally looking to minimise unwanted side effects, whilst still achieving an acceptable outcome. With this in mind, I would suggest that a tapering up of dosages is used in order to assess the individuals personal tolerance to the side effects.
Both MT and MT II can be used for extended periods, whereby there is an initial daily administration of perhaps 2-3 weeks or until desired level of pigmentation has been achieved, followed by a maintenance phase of two injections per week.
Melanotan:

Start with a dose of 1mg daily for the first two or three days and, if level of side effects permit, look to increase dosage by 0.25mg every day over the next several days until you reach a daily dosage of 2-3mg. This level should be adequate for most users, though some may wish to increase yet further, perhaps as high as 5mg daily in order to achieve a very deep tan. A maintenance phase as described above is then used.
Melanotan II:

Start with a dose of 0.25mg. If side effects (primarily nausea) are not proving troublesome, attempt to increase daily dosage by 0.25mg where possible, until you reach 1-1.5mg daily. Most have found that this level will yield a very pleasing result and I can see much point in increasing too much further unless a very deep tan was desired. As with Melanotan, once the desired level of tanning is reached, a maintenance phase is used.
4. Specification:
| | |
| --- | --- |
| ITEM | SPECIFICATION |
| Appearance | White Crystalline Powder |
| Assay | ≥99% |
| Heavy Metals | ≤10ppm |
| Arsenic | ≤1ppm |
| Lead | ≤3ppm |
| Mercury | ≤0.1ppm |
| Cadmium | ≤1ppm |
| Total Plate Count | ≤1000cfu/g |
| Yeast & Mold | ≤100cfu/g |
| E.Coli | Negative |
| Salmonella | Negative |
| Conclusion | The product conforms to the standard. |
5. Related Products:
| | |
| --- | --- |
| Name | Specification |
| MGF | 2mg/vials, 10 vials/box |
| PEG MGF | 2mg/vials, 10 vials/box |
| CJC-1295 with DAC | 2mg/vials, 10 vials/box |
| CJC-1295 without DAC | 2mg/vials, 10 vials/box |
| PT-141 | 10mg/vials, 10 vials/box |
| MT-1 | 10mg/vials, 10 vials/box |
| MT-2 | 10mg/vials, 10 vials/box |
| GHRP-2 | 5mg/vials, 10 vials/box |
| GHRP-2 | 10mg/vials, 10 vials/box |
| GHRP-6 | 5mg/vials, 10 vials/box |
| GHRP-6 | 10mg/vials, 10 vials/box |
| Ipamorelin | 2mg/vials, 10 vials/box |
| Hexarelin | 2mg/vials, 10 vials/box |
| Sermorelin | 2mg/vials, 10 vials/box |
| Oxytocin | 2mg/vials, 10 vials/box |
| TB500 | 2mg/vials, 10 vials/box |
| pentadecapeptide BPC 157 | 2mg/vials, 10 vials/box |
| HGH 176-191 | 2mg/vials, 10 vials/box |
| Triptorelin | 2mg/vials, 10 vials/box |
| Tesamorelin | 2mg/vials, 10 vials/box |
| Gonadorelin | 2mg/vials, 10 vials/box |
| Gonadorelin | 10mg/vials, 10 vials/box |
| DSIP | 2mg/vials, 10 vials/box |
| Selank | 5mg/vials, 10 vials/box |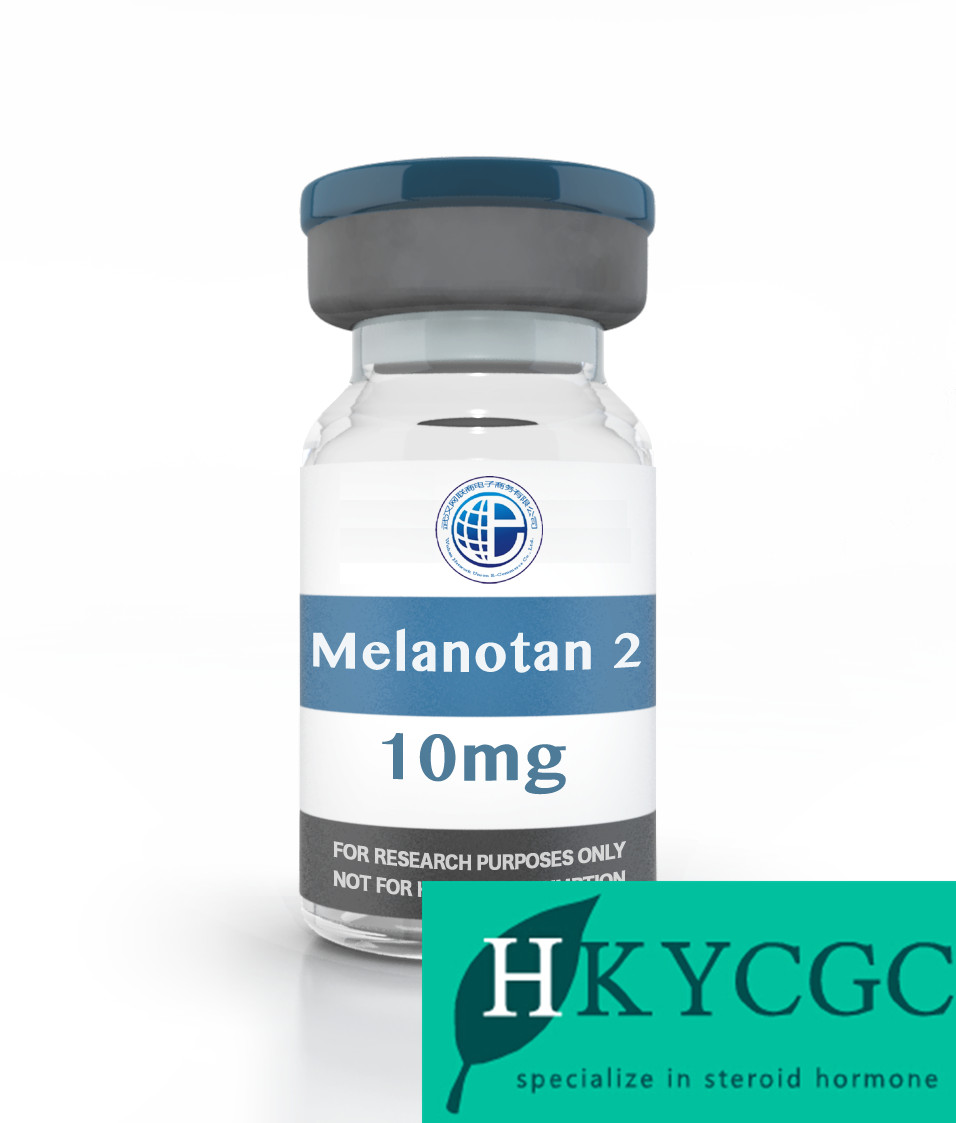 Melanotan II Polypeptide Hormones CAS 121062-08-6 Melanotan 2 Human Growth Images
Contact Us
Hongkong BoWen Gongchuang Technology Co., Limited

Address

Phone(Working Time)

Fax